What is DiamondGlow?
DiamondGlow is a popular general dermabrasion device that gently removes the top layer of skin and delivers topical cosmetic serums onto the skin. DiamondGlow is a next-level, noninvasive skin-resurfacing treatment, designed to work with SkinMedica® advanced skincare products and together they deliver radiant, healthy-looking skin. This exclusive medical service is an effective and painless way of gently removing the dead outer layer of protective skin, also known as the stratum corneum. Although this layer of skin serves a defensive purpose, when dead skin cells sit on the surface they can dull the appearance of the skin and clog the pores, causing dryness and acne.
Our skin is constantly producing new cells and during this cycle we accumulate dead skin cells. The body naturally exfoliates the skin, but not every single dead skin cell is removed which results in a lackluster complexion. An abundance of dead skin cells decrease the ability of the skin to absorb skincare products properly, thus reducing their effectiveness. Exfoliating and buffing away dead skin is key to maintaining a healthy, glowing complexion.
What is Hydrodermabrasion?
Hydrodermabrasion uses water-based medical-grade skin serums and infuses them into the skin with the special DiamondGlow diamond tip dermabrasion. 
Our customized serums are applied to just-exfoliated skin when it's most permeable, which allows the skin to easily and effectively absorb the appropriate nutrients. The serums allow for a customized treatment that targets common skin concerns like dryness, discoloration, wrinkles, breakouts, and aging. 
The DiamondGlow treatment is a multi-pronged approach to exfoliating dead skin cells, unclogging pores, and infusing the skin with targeted serums. Just one treatment can improve the clarity and luminosity of your skin, but the best results will come with continued treatment as we recommend this once a month.
How does DiamondGlow work?
Your provider will use a motorized handpiece with a diamond tip to resurface your skin during your appointment. There are six diamond tips to choose from, and your skin specialist will choose the right one for your skin's needs after discussing your treatment goals.
The handpiece uses pneumatic force (also known as vacuum suction) to lift away dead skin cells and other debris from within the pores while simultaneously eliminating blackheads and effectively treating the cause of acne. The handpiece also delivers our customized medical-grade serums into the opened pores as your skin is gently buffed away.
Am I a good candidate for DiamondGlow?
Ideal candidates for DiamondGlow are those who want to improve mild to moderate complexion issues like fine lines, hyperpigmentation, uneven skin tone, enlarged pores, and more. We recommend this treatment to anyone looking to increase their skin's health or to address particular skin concerns. This is the ideal treatment before a big event such as a wedding, work party, or important event.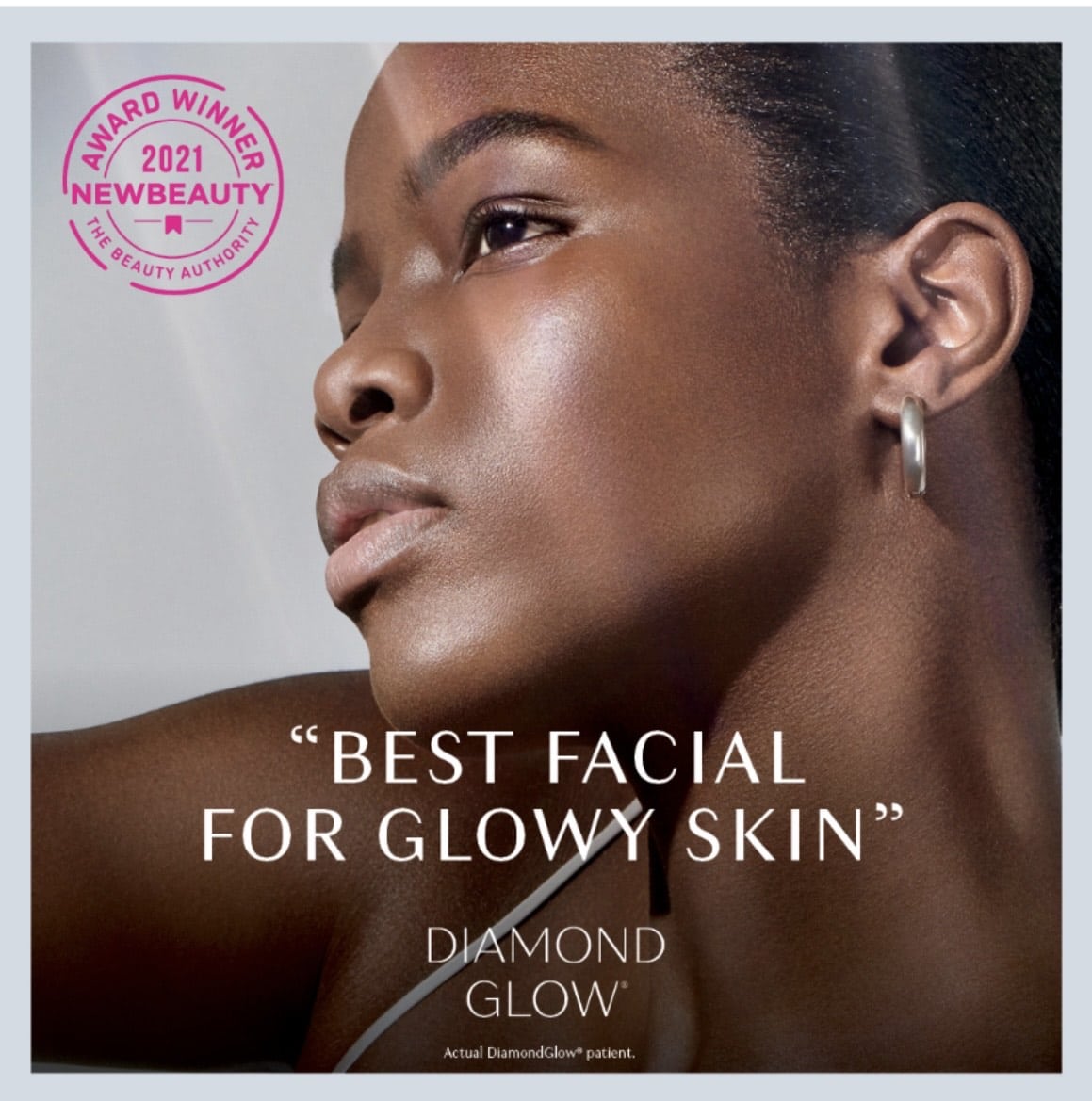 What are the benefits of DiamondGlow?
Improves skin's radiance
Visibly reduces fine lines and wrinkles
Targets and treats specific skin concerns
Gives a lasting youthful glow
Stimulates healthy cell renewal
Effectively treats underlying skin conditions such as acne or discoloration
The great thing about DiamondGlow is that it doesn't stop working once the treatment ends. The newly revealed skin radiance will last for days and because the treatment stimulates skin cell renewal deep within the skin, the skin will appear healthier, and skin concerns are less noticeable.
DiamondGlow FAQs
What are the target areas for DiamondGlow?
DiamondGlow is a facial treatment, although we also use it on the neck.
What is recovery like, any side effects?
There is no recovery time for a DiamondGlow facial. This treatment takes about 30 minutes, and you can return to your normal activities immediately after. 
How many treatments should I get?
Our skincare specialists will help you customize a treatment plan for your optimal results. Although you'll see a difference right away, we typically recommend repeating this process 1-2 times a month to maintain these impressive results.
Why choose Coastal Aesthetic for
my DiamondGlow treatment?
Since 2017, Kimberlee Smith FNP and her medical team have served the coastal York, Maine community. Patients love working with the medical staff at Coastal due to their acute attention to detail, precision treatment, and attentive patient care. In addition, the Coastal team seeks to improve upon your natural beauty. We have a reputation for excellence, and we can't wait for you to see for yourself. 
Kimberlee's medical background started in the hospital with Urgent Care. When she transitioned into aesthetics, she received advanced training at the Esthetics Skin Institute and National Laser Institute in Boston, MA. She has also earned the elite status of Master Injector from the prestigious Allergan company. Quality service and patient care are her primary concerns, which is why she only works with the best of the best. You're going to love the entire Coastal medical team.  
Are you ready to see what a difference Coastal Aesthetics can make for you? We want you to look and feel your best. When you come in for your consultation, you'll be able to ask any questions you have, and our professional staff will help you establish a treatment plan for optimal results. You won't be disappointed. Call us now to book your DiamondGlow appointment!
Schedule Your DiamondGlow Appointment
"*" indicates required fields