How Does TruSculpt Eliminate Fat?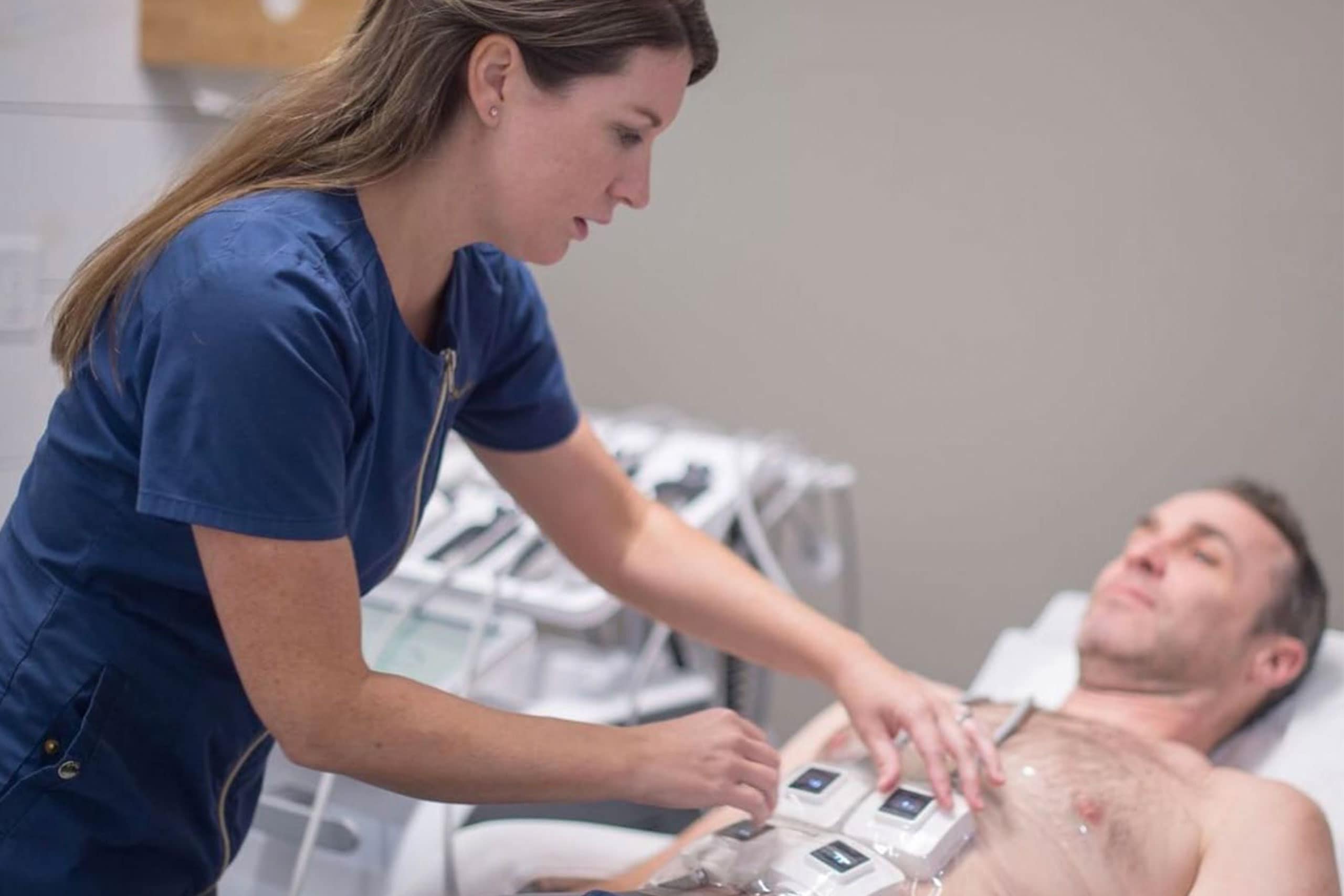 How Does TruSculpt Eliminate Fat?
What is TruSculpt iD?
TruSculpt iD is a non-surgical body sculpting procedure. This treatment was developed by Cutera, one of the most reputable brands of medical spa equipment on the market. TruSculpt will eliminate fat cells using an impressive technology that uses monopolar radiofrequency energy to eliminate fat. This treatment targets only fat, so it will not harm your skin or other tissues, meaning there is no risk of pain or scarring for patients. Many patients turn to TruSculpt as a less invasive treatment alternative to liposuction. Recovery is minimal, and your results will leave you with a thinner and more toned body. 
How does TruSculpt iD eliminate fat?
TruSculpt can eliminate fat by targeting fat cells via radiofrequency energy. First, heat destroys the fat cells. Then, once the cellular damage has occurred, the waste is removed through the body's natural lymphatic system. The treatment heats the fat under your skin for an experience that feels more like a hot stone massage. You'll feel a gentle heating sensation, but your skin will not be burned or damaged. In addition, the process does not interrupt your daily life and doesn't require any downtime. 
What are the benefits of TruSculpt iD?
The most significant benefit from TruSculpt iD is a reduction in body fat. Some patients report a 24% reduction of fat in the treated area, which can take inches off the waistline and other problem areas. Patients also report other benefits, like improved confidence and self-image. They say their clothing fits more comfortably, and some are even more motivated to go to the gym! These benefits come from a series of quick in-office treatments, so you don't have to follow an extreme diet or workout routine; you get to enjoy all the benefits of liposuction without the expense or the recovery time. 
Am I a good candidate for TruSculpt iD?
The best candidates for TruSculpt iD are adults in good health that are close to their ideal weight but are looking for some help to get rid of stubborn pockets of fat. Ideal candidates are not currently pregnant, are non-smokers, and have realistic goals for what is possible with this treatment. TruSculpt iD is suitable for both men and women and is ideal for patients of all ages and skin types. Call us today if you think you might be a good candidate for TruSculpt iD! 
What should I expect during my treatment?
Before we proceed with any treatment, we will schedule a consultation with you and our team to discuss your treatment goals and help you determine the best path of action. During this time, we will also explain what to expect during and after your treatment. Because this treatment is pain-free, you will not receive an anesthetic. Many patients read or use their phones during the treatment or relax and enjoy the spa-like experience. No downtime or recovery is needed, and you can return to your routine immediately. 
What areas can be treated?
Your practitioner can use this treatment to refine the abdomen, flanks (often referred to as "love handles"), hips, buttocks, inner and outer thighs, and the back. This treatment is so precise that it can be targeted at even small pockets of unwanted fat and repeated until the desired results are achieved. It's safe to use on all skin types and can help you lose inches of body fat from many body parts. 
When can I expect to see results?
Whenever patients are interested in a body sculpting treatment, we all want to know how soon we will see results. However, although TruSculpt iD is highly effective, it does not provide instant results. After a TruSculpt iD session, fat cells are slowly removed from the body through the natural waste removal process, meaning the results are gradually revealed. Most patients experience improvement over time and have a noticeable fat loss between 6-12 weeks after the first treatment session. This might seem long, but your results will appear more natural.
Is this treatment safe?
Yes! TruSculpt iD is FDA approved for fat elimination. Our goal at Coastal Aesthetics is to ensure you are comfortable during the session for a pleasant experience and leave with no scarring or damage to the skin or tissue. Many of our patients describe a lingering warming feeling after complete treatment, which is normal and lasts slightly longer than the session. It should not be painful and will not interfere with your day or cause discomfort. Patients love TruSculpt iD because it provides a safe alternative to lasers and invasive surgical procedures. If you are hesitant to go through the long recovery time, TruSculpt iD might be a great choice!
Will I still gain weight after this treatment?
Although the results from TruSculpt iD are impressive, it won't prevent you from gaining weight. Most patients who benefit from TruSculpt are close to their ideal weight but want to deal with a few problem areas. The best way to maintain the results is by maintaining a healthy lifestyle. The treated area will not regain noticeable weight in most cases, but maintenance sessions can be scheduled as needed. The majority of our patients experience a boost in confidence that helps them to remain healthy and active. 
Why should I work with Coastal Aesthetics?
Since 2017, Kimberlee Smith and her team have served the coastal York, Maine community. Patients love working with the staff at Coastal due to their acute attention to detail, their precision treatment, and their attentive patient care. In addition, our team seeks to improve upon natural beauty. We have a reputation for excellence, and we can't wait for you to see it for yourself. 
Are you ready to see the difference Coastal Aesthetics can make for you? Call us today at 207-363-2300 to book your consultation. We want you to look and feel your best. When you come in for your consultation, you'll be able to ask any questions you have, and our professional staff will help you establish a treatment plan for optimal results. You won't be disappointed. So call us now to book your consultation and start your journey to a better you today!
Download our exclusive Coastal Aesthetics Pricing Guide and learn more about our service menu and pricing